WHO IS IT FOR?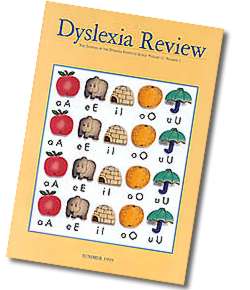 Are you involved in the education of the 1 in 25 people with dyslexia?
The Dyslexia Institute Guild is a PROFESSIONAL BODY with open membership which welcomes individuals with an interest in dyslexia. These may include those trained by the Dyslexia Institute, other specialist teachers, psychologists, speech and language therapists, special needs teachers and classroom teachers.
THE AIM of the Guild is to keep members up to date on developments in the field and to encourage networking/contact between members.
WHAT ARE THE BENEFITS?
DYSLEXIA REVIEW:
a professional journal focusing on current best practice and its link with research (published termly)

'AS WE SEE IT' NEWS:
a  review of the Institute's activities and achievements at local and national level (published three times a year).

ANNUAL SYMPOSIUM:
a one day conference on current practice and research, available to Guild members at a reduced rate.

DISCOUNT:
on Dyslexia Institute materials and some courses

DISCOUNT:
with LDA and on some specialist publications

INFORMATION:
about courses, publications and conferences.

Note: Some DI publications are restricted to those qualified to use the Dyslexia Institute Literacy Programme.